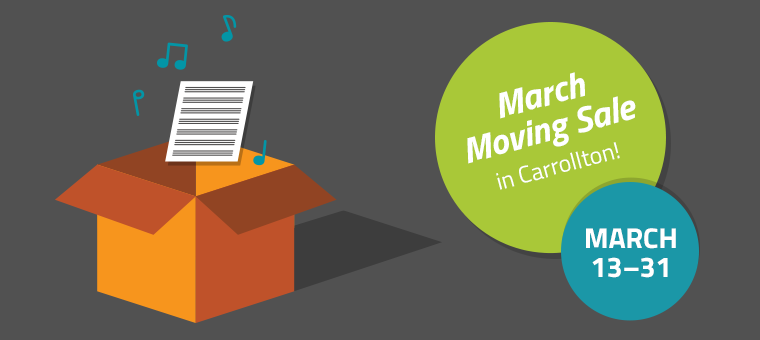 To Our Loyal Customers:
On April 1st our Carrollton and Denton shops will consolidate into one location at our newly remodeled Denton address. The consolidated Pender's location will allow us to carry a larger selection of print music and maintain the personal service you've come to expect from our company.
To help us prepare for this transition, we're offering you the chance to purchase the remaining keyboard, vocal, elementary, and handbell music from our Carrollton shop at 30% – 50% savings, through March 31st. These savings are limited to the on-hand quantities at the Carrollton location, so don't delay! Loyalty Members will still receive points on these sale purchases that may be used in the future.
Starting April 1st, we invite all our Carrollton area customers to continue to shop with us at our Denton location. Please note that special orders taken in Carrollton during March will be available for pickup and shipping from the Denton location.
It has been our honor and privilege to service the Carrollton area over the last 10 years. Pender's Music Co. values your support and looks forward to see you soon in the Denton location. If you prefer to place your orders on-line, please consider using our web site, www.penders.com. You can also email orders to orders@penders.com with your special instructions or call us at our toll-free number to speak to one of our helpful and friendly employees: (800) 772-5918. We are here to serve you!
Thank you for your continued patronage,
Richard Gore
President
richardg@penders.com